About the course
Highlights
A course introducing functional Samskrit through simple Samskrit.
Reading and understanding short stories and subhashitams in Samskrit.
Exploring the different contexts in which Samskrit can be used in daily life.
Enabling a student to enter into the vast realm of Samskrit shastras.
Learning grammatical concepts in an intuitive way.
Enhancing the ability to read Samskrit texts with minimal dependence on translations.
Objectives
Laying a foundation for Samskrit language
Enhance skills in Samskrit grammar
Enhance text comprehension skills
Vocabulary building
Fluency in spoken Samskrit
Outcomes
Enhanced reading, writing, and understanding skills
Construction of long sentences
Conversation in Samskrit with confidence
Stepping stone for Samskrit shastras
---
Topics Covered in the Course
Reading and writing
Spoken Samskrit
Word generation, Morphological analysis
Sentence construction
Creative writing
Comprehending Samskrit texts
धातुपरिचयः क्रियापदपरिचयः च
विभक्तिपरिचयः
प्रयोगाः - कर्तरि कर्मणि भावे
श्लोकपठनविधिः
कथारचना
वाचोविच्छित्तिपरिचयः
Unique Features of the Course
Self-paced MOOC course
Computer-assisted learning
Covering wide range of topics such as story writing and contextual speech
Grammar taught in simple ways using software tools / games
Group discussions and assignments
Known to unknown method of teaching
Transferable credits (credit banking) in-line with NEP 2020
Students from any college/university can opt this as an open elective
---
Course Details
Course duration:

45 hours (3 credits)

Evaluation criteria: Quiz, practicals, writing, competition, conversations etc.
Eligibility: Open to all
Medium of instruction: Simple Samskrit / English
Class timings:

3:30 pm to 5:00 pm IST

(Doubt clearing sessions on Saturdays)
Online Live classes start on

10th Feb 2022

Enrollments open till

28th Feb 2022

MOOC course. Students can either attend Live classes or listen to the recordings and complete the course in a

self-paced manner

.
Online Exams will be conducted multiple times during a year. Students can write any one exam to complete the course.
Fee structure
Students: INR 1,000 (One thousand rupees)
Working professionals / Others: INR 1,500 (One thousand and five hundred rupees)

International participants
Students: USD 50 (Fifty dollars)
Working professionals / Others: USD 65 (Sixty five dollars)
Registration process
STEP 1: Click on the "Register here" button below
STEP 2: Fill up the Google form
STEP 3: Pay the fees using the account details given in the form
STEP 4: Upload the payment receipt
Register here
After the registration is complete, further details will be notified via "Whatsapp group".
Faculty
Course Director
Prof. Shivani V
Dean, Shastra Faculty, KSU
Main Faculty
Vid. Chaitanya S Lakkundi
Guest Faculty, Department of Vyakarana, KSU
Other Faculty
Dr. Anupama B
Assistant Professor,
Dept. of Vyakarana, KSU
Dr. Swati Basapur
Guest Faculty,
Dept. of Vyakarana, KSU
Dr. Archana Karanth
Guest Faculty,
Dept. of Vyakarana, KSU
About the university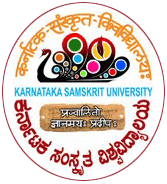 Karnataka Samskrit University has been formed in 2010 and is dynamically working towards the growth of Samskrit higher education in the state offering courses from diploma to PhD. The university offers programmes in various fields including language, literature, culture, tradition, Vedic studies, humanities, philosophy, grammar and sciences of different disciplines – with traditional profundity and modern approach. It also facilitates interdisciplinary research in accordance with NEP 2020.